These online events are open to alumni, supporters and prospective class candidates.
They are free of charge. Registration through Zoom is required.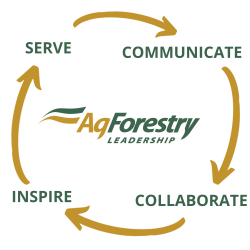 Communicate, Collaborate, Inspire and Serve
April 7: Introduction to Collaborative Governance, presented by Michael Kern
Join us for an introduction to collaborative governance. Michael Kern, Director of the William D. Ruckelshaus Center at Washington State University and the University of Washington, will gives us an overview of the key concepts, ideas, and stages in collaborative governance.
Click here to watch the webinar recording.
April 14: Collaborative Competencies, presented by Michael Kern
What are the concrete skills needed to initiate and participate in collaborate approaches to public issues? This week, Michael will introduce us to the University Network for Collaborative Governance's Guide to Collaborative Competencies. 
April 21: Situation Assessments, presented by Amanda Murphy
Join us for this third week in our Collaboration series as we explore the first phase of the collaborative governance process, the situation assessment. Amanda Murphy, Senior Facilitator for Projects and Programs at the Ruckelshaus Center will be our guide this week.
April 28: Collaboration in Action, presented by Paul Ward (Class 29) and Urban Eberhart
In this final week of our Collaboration series, we'll hear from Paul Ward (Class 29), from the Yakama Nation and the Columbia River Inter-Tribal Fish Commission, and Urban Eberhart, a farmer and manager of the Kittitas Reclamation District. These two are seasoned navigators of the collaborative process, who have been key to many large-scale collaboratives, such as the Yakima Basin Integrated Plan and the Columbia Basin Forum. They are both members of the Ruckelshaus Center Advisory Board. They will share their stories, insights, and leadership lessons in how to move from controversy to collaboration.
Inspire and Serve Series, presented by Lisa Berglund
Lisa Berglund is an award winning videographer, editor, producer and storyteller. For over 50 years, the National Press Photographers Association has awarded its Photographer of the Year to the finest in the nation. Lisa was the first and only woman videographer to receive this honor.
Lisa's work with corporations, international news and non-profit organizations has given her powerful professional experience – including shooting, producing, and editing news, marketing and promotional videos, PSA's and documentaries. Lisa specializes in working in some of the most remote corners of the world, because she feels strongly about giving voice to people who are rarely heard. She has worked in over 30 countries, including Angola, Rwanda, Democratic Republic of Congo, Sri Lanka, India, and Ecuador.                           
Lisa is also a sought after teacher and coach. She has helped thousands of working journalists and filmmakers become better visual storytellers.
She is the owner of Gold Dog Media, Inc., and lives with her two amazing border collies in Washington State.
June 1: Why Stories Matter
June 8: What Makes a Compelling Story?
June 15: How to share your story
June 22: Case Studies
If there is a topic or speaker you are interested in learning more about, please reach to us at leaders@agforestry.org
Webinar sponsorship opportunities are available and appreciated. Please contact us to discuss giving options.