These online events are open to alumni, supporters and potential class prospects.
They are free of charge. Registration through Zoom is required.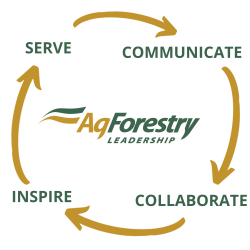 Communicate, Collaborate, Inspire and Serve
These core competencies will be the focus of our 2021 webinars.
You can look forward to three mini-series filled with practical tools, stories and inspiration.
Communication Series, presented by Dr. Rachelle Strawther, Director, Leadership Training and Development, School of Leadership Studies, Gonzaga University
February 3: Emotional Intelligence: Self-Awareness and Self-Regulation

February 10: Emotional Intelligence: Empathy

February 17: Communicating with Emotional Intelligence: Approaching Difficult Conversations

February 24: Communicating with Emotional Intelligence: Managing Conversations When Things Get Tough 
Upcoming Webinar Series...
Join us for Tune-Up Tuesdays, an opportunity to focus on your leadership skills!
Parliamentary Procedure:
Level up your leadership by leveling up your understanding of parliamentary procedure. Have you ever been at a meeting and nobody was quite sure whether a motion was needed or not? Ever wondered why we make motions in the first place? This tune-up is for you! Ben will give us an overview of the basics and provide some helpful worksheets to help us put it into action.
February 9, 12-1 p.m.
Presenter: Ben Cochrane, Cochrane Sons Farms, AgForestry Class 41
Collaborative Decision Making:
Natural Resources, and life in general, can be wrought with controversy. The greatest stewardship happens when multiple interests and needs are considered and met. Mike will provide us with an understanding of the benefits of collaboration and how we can employ strategies for collaborative decision making.
March 9, 12-1 p.m.
Presenter: Michael J. Gaffney, Assistant Director, WSU Extension
Read to Lead. The best leaders are the best learners.
Join us in reading Tools and Weapons by Brad Smith, President of Microsoft.
Virtual discussion: March 24, at 7 p.m.
If there is a topic or speaker you are interested in learning more about, please reach to us at leaders@agforestry.org
Webinar sponsorship opportunities are available and appreciated. Please contact us to discuss giving options.