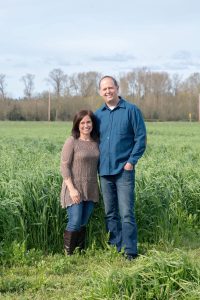 Tristan (Class 32) & Joelle Klesick were introduced in the early 1990's to a few farmers from the Willamette Valley, and were inspired by them. He recalls, "they were impacting the world around them by growing food and with a growing family ourselves the idea germinated, and we began a journey towards farming and raising our family." The Klesick's farming adventure started on a 4×8 foot plot, which has grown into 37 acres in Stanwood, WA.
Tristan said, "AgForestry was a natural fit for me." He was already serving on County boards, local Dike Districts, and was helping to launch the NW Ag Business Center. "AgForestry introduced me to the entire state, it's challenges and how the Natural Resource Community could impact our state for the better."
"The vast network that AgForestry introduced me to is able to connect and move ideas, projects, legislation forward. I am firm believer that local opportunities are best served by local folks who know their communities. And farmers, foresters, and fishers are uniquely equipped to help Washington state move forward with practical solutions. AgForestry enhances the delivery of these solutions through their network and leadership program."
Tristan believes that AgForestry Alumni are servants first. "By serving our communities we can break down barriers and get to the heart of issues. We can't always solve them, but by being a voice for our communities we can impact and influence the process and the outcomes. AgForestry expanded my ability to see the bigger picture. I run into the alumni serving their communities everywhere!"
When asked how Tristan helps others to become strong leaders, he said by listening. "Listening to others shows you care and when it is your turn to share, they often reciprocate. I also do not believe that all the wisdom or knowledge resides with me and am eager to learn and willing to incorporate other ideas and the ideas of others, especially if they better than my own." 🙂
"AgForestry has its greatest impact by having it's alumni serve on boards, elected positions, ad hoc committees, really wherever leadership is needed. By serving at these levels, we make our communities and our state better." One way Tristan is making his farming community better is by developing a new logistics management software called Customer Aligned Logistics.