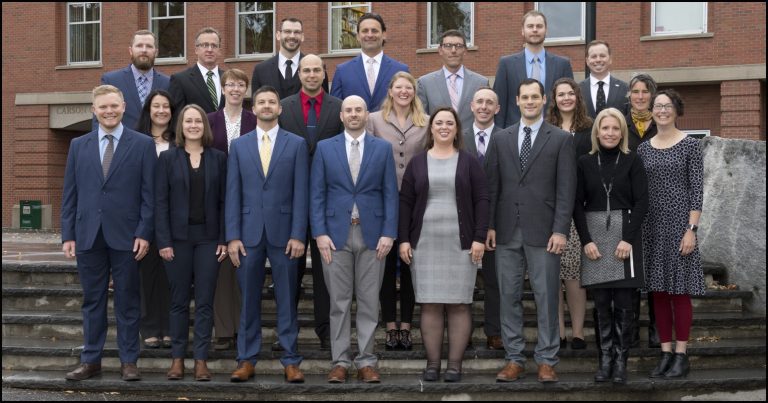 Congratulations to Class 42 on your Graduation!
Class 42...The Most Class Ever.
Class 42 Awards Announced
Each year, the soon-to-graduate AgForestry class thoughtfully nominates members of their cohort to be honored for their inspiration, their leadership and their community service. The winners in each category are honored as part of the graduation ceremony.
Leading Edge Leadership Award
"Making a Difference" Community Service Award
In honor of Carol Mercer for her dedication and enthusiasm for the natural resources, her love and involvement in the leadership program, and her modeling of leadership. The award recognized enthusiasm, empowerment, encouragement and inspiration, all traits Carol exhibited and that her fellow participants admired.
In recognition of Karl and Lexie Kupers' willingness to try new ideas, be innovative, and take risks. They provided creative, entrepreneurial ideas in leadership, dedication and enthusiasm for the natural resource industries all while pioneering new crops, farming practices, and marketing techniques. This award recognizes enthusiasm, innovative thinking, entrepreneurial spirit, and a willingness to take calculated risks and try new ideas, all traits exhibited by Karl and Lexie.
In recognition of Jack Felgenhauer who exemplified leadership in the natural resource industries at the local, state, national, and international levels. Jack committed to public service and community involvement and used his leadership talents to give back. His commitment and financial support of AgForestry helps guarantee generations of leaders. This award recognized leadership through service including being a role model for compassion, striving to positively impact and enrich lives and communities, and generously sharing one's time and talent.
Class 42 Award Winner: Katie Tackman, Chelan County PUD, Fish and Wildlife Specialist, Wenatchee
Class 42 Award Winner: Faith Van De Putte, Midnight's Farm, Owner, Lopez Island
Class 42 Award Winner: Andrew Engell, Deputy District Director, Congresswoman Cathy McMorris-Rodgers' Office, Colville
Her cohort said: Katie goes out of her way to engage with AgForestry and build connections with classmates. Katie led with enthusiasm and has a tireless and empathetic spirit, lifting others with her words and energy. Her dedication to natural resources and her commitment to the leadership program are inspiring.
Her cohort said: Faith brings innovative ideas to agriculture — producing compost, advocating for biochar, and offering climate learning internships. she can think creatively and use ideas to innovate for natural resources. Faith is unwavering in her pursuit and implementation of environmentally-friendly farming and life practices: she talks the talk and walks the walk. Her passion for biochar is contagious and makes me think twice about my life practices.
His cohort said: Andrew is guided by an instinct to help those around him. He gives voice to diverse stakeholders through his work, is highly engaged in his community and truly cares about others. He is on e of those rare people who does not seek leadership but those around him see him as a leader and want him to lead plus, he is both positive and helpful.
Thank you to our generous sponsors!
Wine Glass and Wine Sponsor