Upon filling out his application for AgForestry Class 1, Tedd shared: "Like all industries, agriculture requires leadership, organization, and promotion. Agriculture is the industry that I have always been involved with. I would like nothing better than to be one of the voices to promote and guide it."
"Mark Doumit was not an AgForestry graduate, but his career defined what AgForestry leaders are called to be. Mark was a gifted collaborator. As he worked across the aisle, he listened to all sides of the story, he understood what people needed to support an issue, and then he delivered." – Doug Hooks (Class 36)
Robert John Thode, Class 14
When asked why Bob wanted to participate in the AgForestry program in 1991, he shared: "Because I want to make a difference! We are seeing tremendous change in how agriculture and forestry industries are operated, perceived and regulated. As these changes occur it is critical that we have individuals in place who can and will make an impact on how these industries evolve."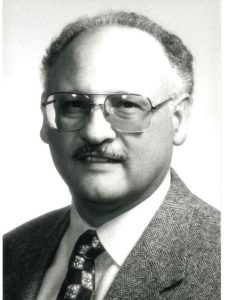 July 24, 1950 – November 2020
When Tony was asked how he would apply leadership skills gained in AgForestry, he replied: "Management and growth of natural resource industries has moved beyond technical considerations alone and now include considerations of political agendas, environmental concerns, and emerging world economy issues, I will use the knowledge gained in the leadership program to integrate my consulting efforts on technical issues with other complementary non-technical considerations."
Tommy Dean Grebb, Class 10
In Tommy's 1986 AgForestry application, he shared: "Having been involved in local leadership and in agriculture, [AgForestry] is being sought for many reasons. The main reason being to continue seeking a greater knowledge of the world and it's reflection upon our state."
Barbara Henderson Holloway
Barbara served for eight years as the Administrative Director for AgForestry. As was noted by her foundation colleagues when she retired, "Barbara lets you know where she stands, but she always cares. Everyone appreciated her attention to detail, her work ethic, and her forthrightness."
Jeanne Ann Pickel - Class 18
On her AgForestry application (April 1995), Jeanne wrote: "Our community, as is the nation, is beginning to be divided into ethnic groups, economic groups, regional groups, etc. We are pointing out how different everyone is instead of emphasizing what everyone has in common. This nation, community by community, has to be willing to bridge the gaps of difference and pull together for the betterment of our country."
"A few of Linda's life lessons that she was fond of expressing were: 'attitude is everything!' 'if you rest you rust!' and, 'don't let the bastards get you down!'"
Dan understood the importance of AgForestry before going through the program, as shown on his application, "Problems in the natural resource industries need to be confronted by people willing to take an active role in determining their own future." 
While Richard was not an AgForestry Alum, he was a supporter from the beginning.
Richard Thomason - Class 7
"Remember, there is no limit to what you can accomplish if you don't care who gets the credit" 
Lloyd and Maxine Morgan, of LMT Farms Inc, began supporting AgForestry in 1979. From 1984 to 1990, Maxine served on the Washington AgForestry Foundation board of directors. Early in the formation of the organization, Maxine helped fundraising efforts, recruited members and promoted the program through her local organizations and networks. Maxine believed people could accomplish anything they wanted if they had enough information to achieve their goal. 
To that end, she was a lifelong learner and encouraged others in their endeavors.