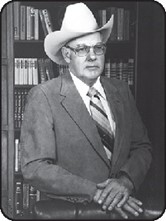 Harold often spoke on the importance of education: he valued education for his family and for those seeking leadership roles in agriculture. Harold's fascination with diverse cultures, farming methods, and politics led him to visit more than 20 countries. These values and passions led Harold to serve as a member of AgForestry's original Board of Directors (1978-1984), providing ongoing support for the organization. 
This scholarship honors the legacy of Harold Sanders Cox, who donated $100,000 to the Agriculture and Forestry Education Foundation (AgForestry). 
Harold built a successful farming and ranching business in the Tri-Cities and was a leader in local, state and national agricultural and civic efforts. Among many other activities, he served as the President of the Washington State Cattlemen's Association and the Washington State Cattle Feeders Association. He served on the National Beef Board where he was instrumental in creating the "Where's the Beef?" campaign of the late 1980's. 
Harold approached life with an iron will which translated to an exacting standard for himself and also others. Harold was known for saying, "You always, always make your goal, plan three steps ahead, figure all the down-sides, and then give it all you got! Never go halfway. Don't ever, ever quit 'til the job's done."
This scholarship provides financial assistance to producers in agriculture and forestry who seek professional growth by participating in the AgForestry Leadership Program. This investment perpetuates Harold's values and his legacy, and promotes yet more legacies, by developing the next generation of leaders.
This scholarship provides financial support for one or more recipients up to $3,500 annually. The award amount will be applied against the balance owing for participation in the AgForestry Leadership Program.
Applicants must be a: 
• producer in agriculture (including livestock, fishing, aquaculture) or forestry, or on the production side of a vertically-integrated business in agriculture or forestry.
• member of a current class or applying for an incoming leadership class (new applicants must be accepted to a leadership class to receive the scholarship).
Selection Criteria and Process
Successful scholarship recipients will be selected based on demonstrating their:

• passion for agriculture and/or forestry, and their intent to remain a producer.

• commitment to serve their industry and community by providing leadership and sharing time
and talent outside their business or organization.

• financial need to afford the AgForestry Leadership Program.


Preference is given to first-time scholarship applicants. There is no guarantee that prior scholarship
winners will receive financial support for a second year.

Applications for this scholarship are open from February 1 – April 30, 2022.
A scholarship selection committee comprised of the AgForestry Executive Director, the AgForestry Selection Committee Chair and Board members will select the scholarship recipient(s) and will notify all applicants of their status by July 30.
To apply, please fill out and submit the form below.